Parent Workshop – Heuristics in Mathematics
This workshop is open to Primary 3, 4 and 5 parents only.
Tackling Mathematics at the upper primary levels can be challenging.
On top of learning new topics, your child is also expected to grasp a whole new range of different problem-solving methods. As such, many parents like yourself may find it challenging to coach your upper primary child in Math effectively at home.
Doing well in upper primary Math begins with sharpening your child's problem-solving and application skills — this is where heuristics come in.
What Are Heuristics?
Heuristics are problem-solving methods that play a very important role in upper primary Math.
Join us this August as Ms Lee Ying, Subject Head of Math at TLL Marine Parade Central, conducts a two-session Math Workshop to help parents guide their children in tackling upper primary Math.
During this workshop, you will learn how to identify concepts in common word problems and apply the most efficient heuristic methods to solve Math problems.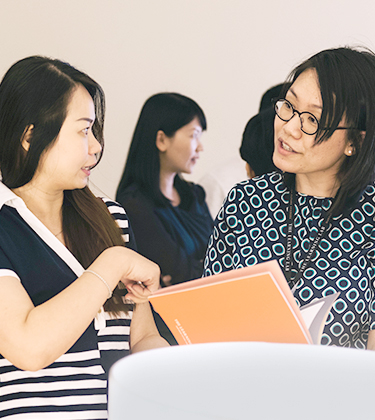 Workshop Details
• Session 1: Identifying Heuristics (2 hrs)
Friday, 17 August, 7.30pm – 9.30pm
Identifying the types of heuristics — this session will allow parents to learn the different types of heuristics and their identifiers.

• Session 2: Managing Common Word Problems (2 hrs)
Sunday, 19 August, 2pm – 4pm

This session is a continuation from Session 1 — we will be sharing word problems that students commonly find challenging.
After Session 2, members of our Academic Team and our enrolment consultants will be available to answer any questions you may have about our Math curriculum or other programmes.
Materials will be provided for both workshop sessions.
Trainer
Ms Lee Ying
Subject Head of Math at TLL Marine Parade Central
Lee Ying graduated from NUS Business School with a Bachelor of Business Administration (Honours), Double Specialisation in Finance and Marketing. She joined The Learning Lab in 2011 as a Management Associate, before moving on to teaching Mathematics and Physics prior to taking on her current role of Subject Head of Mathematics.
Lee Ying works in close partnership with Math teachers at TLL Marine Parade Central and the curriculum team in ensuring quality in our Mathematics lessons. A passionate teacher, Lee Ying believes in helping students to discover that there is no Math problem too difficult to solve and seeks to empower them as they journey through life beyond the classroom.
Event Details

Day & Date
Session 1 : Fri, 17 August 2018
Session 1 : Sun, 19 August 2018

Time
17 Aug, 7.30pm – 9.30pm
19 Aug, 2pm – 4pm

Location
The Learning Lab Marine Parade Central, 87 Marine Parade Central, #02-00 Singapore 440087
Fee: $70 per household for both sessions (applicable for two parents)
Limited spaces available.
Register for Heuristics in Mathematics Workshop
To register for the workshop, please follow the steps below:
1. Select your ticket.
2. Click on 'Add to cart'. You will be directed to the payment cart page.
3. On the payment cart page, fill in your details and click on 'Proceed to checkout' at the bottom.
4. Proceed to make payment online.
Your registration will be confirmed after payment has been made.
Workshop
Dates & Times
Price
Number of Tickets
Heuristics in Mathematics Workshop
17 August, Fri, 7.30pm
&
19 August, Sun, 2pm
$70
Don't Miss Out On These Exclusive Incentives
Enrol your child in a new core programme and enjoy*:
• $100 off your child's Term 4 fees (incl. GST)
• A TLL Welcome Kit worth $25
Terms & Conditions
1. Registration and payment for The Learning Lab's core programmes must be made by Sunday, 19 August 2018, for household to be eligible for the promotion.
2. This promotion is only valid for new students or existing students enrolling a new core programme.
3. Student must begin lessons in new core programme between Wednesday, 15 August 2018 and Tuesday, 11 September 2018 to enjoy promotion.
4. Enrolment in core programmes is subject to class availability and suitability.
5. Enrolment of core programmes is done on a termly basis.
a. No midterm withdrawals are allowed.
6. There is strictly no replacement for lost, misplaced or damaged merchandise items in the TLL Welcome Kit.
7. The Learning Lab reserves all rights to make changes to any of their programmes and promotions, and may, at its discretion, amend timings, availability, venues, content and specialist trainers according to programme priorities and client needs.
Event Details

DATE
Thursday, 01 January 1970

TIME
N/A

Venue
N/A